Black henna temporary tattoos
While on holiday, many people opt to have a fun temporary henna tattoo applied on the beach or by the pool. Henna extract is orange-red in colour. Parents hoping to treat their children to a temporary tattoo this summer on holiday or at the funfair and party-goers at festivals, may not realise the dangers of 'black henna' temporary tattoos (BHTTs). There is no such thing as 'black henna' and so-called 'black henna' temporary tattoos can cause painful short and long-term damage to skin and may cause you to develop an allergy which means you can never colour your hair again.
So what is in 'black henna'?

The truth is that so-called 'black henna' temporary tattoos are not likely to be henna at all, but may contain a substance called PPD (paraphenylenediamine). This use of PPD is illegal in the EU, and it can be very harmful if applied direct to your skin, in these type of temporary tattoos, often at high concentrations.
---
PPD - what does it do?

PPD is used safely and legally as an ingredient in hair colorants, but when applied directly to the skin in a temporary tattoo it can cause blistering, painful skin burns and may even lead to scarring. It can also sensitise you to PPD, triggering a painful allergic reaction called 'contact dermatitis.'
Dr Anjali Mahto, Consultant Dermatologist & British Skin Foundation Spokesperson reinforced the findings saying, "Black henna is well known to cause skin reactions and should be treated with caution, particularly in children."
If you have been sensitised to PPD through a 'black henna' temporary tattoo, you are very likely to react to PPD elsewhere in future, such as when you use hair colorants. Hair colorants themselves are regulated under the stringent EU cosmetic safety regulations and are perfectly safe to use when the instructions are followed carefully, which includes doing an Allergy Alert Test 48 hours in advance every time you colour your hair. But because an allergy is for life, you may never be able to use permanent hair colours in future without risking a bad reaction.
Dr Christopher Flower, Former Director-General CTPA says "The message is clear: having a 'black henna' temporary tattoo presents a significant risk of a very nasty adverse reaction to the tattoo itself. It also increases the risk of either not being able to use most hair dyes in the future or having a bad reaction to them if the warnings are ignored. Most importantly, parents will want to safeguard their children this summer by steering clear of so-called 'black henna' temporary tattoos."
Black henna reactions are on the rise

Dermatologists who took part in the Skin Health Alliance 2017 Dermatologist Survey agree that incidences of black henna reactions are on the rise. Out of the 288 dermatologists who took part in the survey 72% thought the incidence of patients with a reaction to black henna temporary tattoos is increasing year on year.
What should I do if I react to a 'black henna' temporary tattoo?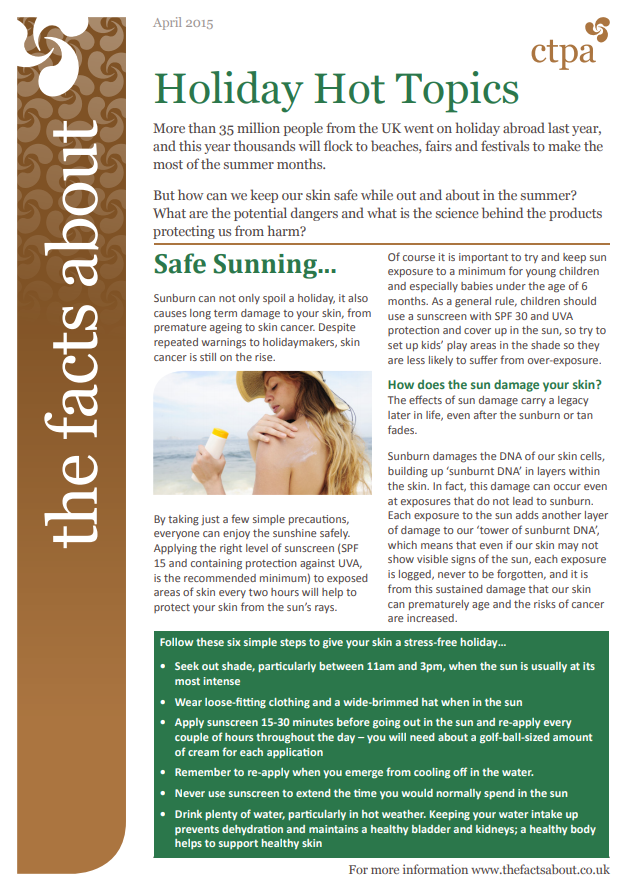 If you do suffer a reaction from a temporary tattoo, consult your doctor who may refer you to a dermatologist to carry out a patch test. This will identify what ingredient has caused the problem so you can steer clear of it in future. It is also very likely that you will not be able to colour your hair with a permanent (oxidative) hair colorant following a reaction to a 'black henna' tattoo. It is absolutely essential to do an allergy alert test 48 hours before colouring the hair, if you are considering colouring your hair. Having a reaction to a temporary tattoo may mean you'll have to avoid colouring your hair altogether in the future - so steer clear of 'black henna' tattoos!
To find out more about black henna, and how to stay skin-safe on holiday see here.
Read the warnings from the NHS.
---
Case Studies
James Colley, 19, student

Student James Colley, 19, got a black henna temporary tattoo on holiday in Zante in 2017. What was meant to be a bit of holiday fun left him with a scar on his face.
James says, "Had I known the dangers of black henna tattoos I would have stayed away. It never crossed my mind that it might cause such a severe reaction. There was a lot of pain involved in the aftermath which is still fresh in my memory. My advice to people this summer is to stay away from black henna tattoos- no matter how much fun it seems at the time, you will regret it."
---
Katy Borluvie, 34, married mum of one, London

Katy decided to have a temporary 'black henna' temporary tattoo while she was on holiday in the Gambia:
"I was having a lovely holiday with my friend. I was by the hotel swimming pool and just made a spur of the moment decision that I now regret because I just didn't really know what the consequences could be.
"I decided I wanted a pretty pattern drawn in 'black henna' just below my collarbone - I was in my swimsuit and I thought it would look really nice. The tattoo artist had a stall in the shade nearby and I'd been watching people have designs done all morning, so I decided to get one too.
"I described what I wanted, he finished painting it on just as I'd asked, and straightaway I felt a burning sensation, and I knew something was wrong.
"My skin blistered soon afterwards - it was incredibly painful and sensitive and looked terrible. It took a long time to fade and I had a visible scar for the next six months.
"I thought 'black henna' was something genuine and safe, I had never even heard that there could be ingredients in it - stuff I let them put straight onto my skin - that probably weren't even being used legally, and as a result was really risky.
"It turns out that it was an illegal use of PPD in the temporary tattoo which they put directly on my skin, resulting in me developing an allergy to that ingredient. It's something that's used in hair colorants at a safe and controlled concentration. I used to colour my hair all the time but because I'm now allergic to PPD, I can't ever colour my hair again.
"I was really upset that a silly bit of holiday fun turned out to be anything but fun - it was supposed to be temporary thing but it has left a horrible lasting legacy."
---
Salih Cikikcioglu, 20, London

Salih went on holiday to Cyprus and was tempted by an advert for 'black henna' temporary tattoos.
"I was walking along the beach with my friends and saw an advert for 'black henna' temporary tattoos. I love stars, so I chose a large design on my inner forearm. I had it painted on there and then - I didn't stop to think what ingredients could be in the paste as some of my friends had had them done in the past and not had any problems.
"A few hours later, back at the hotel, I noticed my arm was itching. The next day it went all red, and a few days after that it got so inflamed and infected that I had to go hospital. I was put on antibiotics and had to have it re-bandaged everyday for two weeks. It took months to heal and left a scar which you can still see now. I had no idea of the risks and now actively tell my friends to avoid 'black henna' temporary tattoos at all costs - I'd advise everyone to resist the temptation to get one done this summer."