CATIE Faces of Science
Key Stage 4 Science and PSHE resource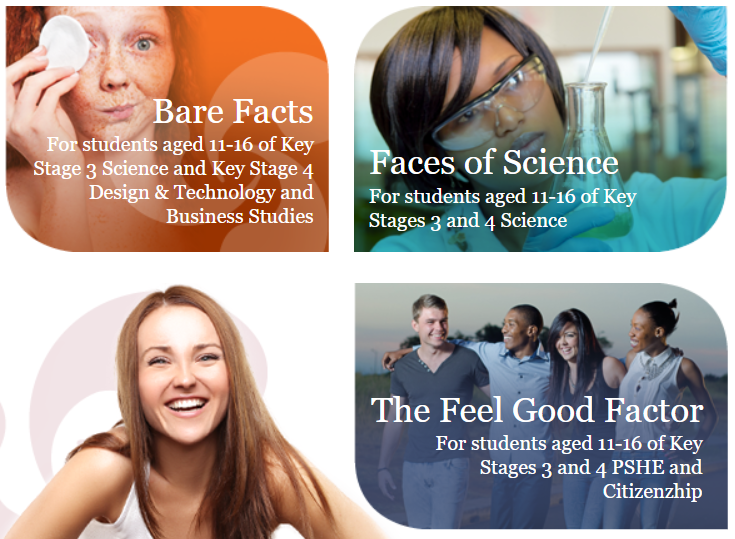 Part of the CATIE online resources, Faces of Science was developed as an educational resource for Key Stage 4 Science students. It contains educational information, animations and interactive activities, as well as interviews with scientific experts who work in the cosmetic, toiletry and perfumery industry. Parts of this resource are also suitable for Key Stage 3 students.
Faces of Science teaches science that is needed for GCSE and gives the opportunity to meet the people who use this science for their jobs in the cosmetics industry.
'Scrub Up On Science' - Online Educational Resource
The SCS has launched a new educational website, 'Scrub Up On Science', for 11-16 year olds. The aim is to provide free practical Chemistry resources to UK secondary schools with work plans, activity sheets and presentations for lessons ranging from learning how to describe the properties of cosmetic products to extracting natural fragrances.
---
Courses for Cosmetic Scientists
London College of Fashion - MSc Cosmetic Science Course
From the 2012-13 academic year the London College of Fashion commenced an integrated MSc Cosmetic Science Course which replaced their original BSc (Hons) Cosmetic Science Course, which ran successfully for over 10 years, this new course Msc in Cosmetic Science has now been running for 7 years.
For more information about the course, and to discuss placement opportunities for students, please contact:
Dr Danka Tamburic
London College of Fashion
20 John Prince's Street
London
W1G 0BJ
Tel: 0207 514 7722
www.fashion.arts.ac.uk
Society of Cosmetic Scientists
The Society of Cosmetic Scientists (SCS) runs a Distance Learning Course leading to a Cert HE and the Society's own Diploma. It also runs a week-long Residential Course every two years.
Distance Learning Course - SCS Diploma/Certificate in Higher Education (Cosmetic Science)
The course consists of 29 modules some of which utilise Practical Activity Kits (PAKs), and these together with CD ROMs are provided in three separate mailings - corresponding in one per term.
Principles and Practice in Cosmetic Science - Residential Course
The course has been structured to provide information regarding the principles & practice of Cosmetic Science to scientists who have been working in the Industry for a few years and are looking to move in to more managerial or supervisory roles, primarily, but not exclusively, in the scientific functions.
The course is based around a compelling & challenging Product Development exercise, which was developed by Tony Dweck, an Industry expert & a very active member of the Society. The lectures have been organised in such a way as to provide the delegates with the most up to date information on the principle & practise of cosmetic science, in the context of this unique development exercise, maximising their learning experience.