Hair Dyes and COVID-19
There isn't enough scientific information available at the moment to know whether COVID-19 affects the body's allergic response to substances, such as ingredients in hair dyes.   Research is taking place to try and find out if and how COVID-19 affects our body's immune response.  
For hair dyes, currently it is impossible to know for sure whether any new allergies are due to a change in the body's immune response due to COVID-19, or because a new allergy has developed during a previous hair colouring procedure which is unrelated to COVID-19.
Therefore, if you're thinking of a new hair colour either by visiting a salon or using a home hair dye, we would like to highlight the importance of the Allergy Alert Test (AAT). 
Checking for Allergy to Hair Dye 
The AAT is performed at least 48 hours before your hair colouring procedure, and it will let you know if you are likely to have a reaction to the hair dye. 
At home
If you are going to use a home hair dye kit, always read and follow the instructions, including carrying out an Allergy Alert Test 48 hours before each colouring.
Remember to factor in the time needed to do an Allergy Alert Test when buying your hair dye, but you don't need to buy a second pack just for the purpose of the test.  Just re-close the tubes after taking out the small amount recommended for the test.
At the salon
If you are having your hair coloured at a salon, your hair professional will advise you on the best course of action following their hair dye protocols.  If salons and clients are in any doubt about whether an AAT should be redone, then it should be carried out.
If in doubt, be safe and do an Allergy Alert Test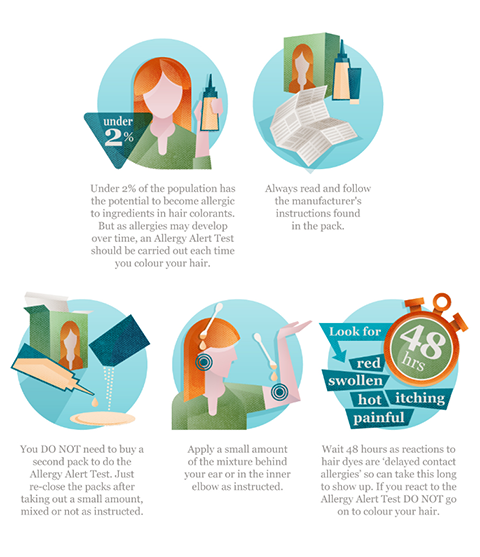 Read more about allergies, hair colorants and haircare and the Allergy Alert Test.