Science Behind Beauty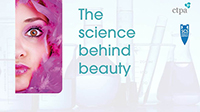 CTPA co-hosted a successful 'Science Behind Beauty' event on the evening of 12 May 2015 with the Society of Cosmetic Scientists (SCS). The event, aimed primarily at the media, was designed to explain the depth of science behind cosmetic and personal care products and the detailed processes that companies follow in developing, manufacturing and presenting them to consumers.
See the factsheet provided at the event.

---
Speakers and their presentations
Information about the speakers and copies of their presentations can be found below.
CTPA's Former Director-General, Dr Chris Flower, opened the event and CTPA's Director General and, the then President of the SCS, Dr Emma Meredith, gave an overview of the legislative framework.
This was followed by three guest speakers:
Industry expert Steve Barton of Skin Thinking discussed the skin, ingredients, products and their claims, explaining how cosmetic products are carefully formulated and labelled to ensure ingredients are used and delivered safely to achieve a desired benefit.
Brand owner Sam Farmer discussed what sparked his desire to create a personal care range and the product development process from concept to final formula, as well as the detrimental effects of misinformation in cosmetic science on the upcoming generation and their parents.
Dr Barbara Hall of SURECONSULT Ltd then discussed the role of a safety assessor, the difference between hazard and risk and popular myths about the "toxic world" and chemicals.
The event closed with a question and answer session that could easily have gone on for double the allocated time.
---
How is safety ensured in cosmetics?
All cosmetic products placed on the market in the UK, and throughout the EU, are regulated by strict European legislation. The absolute number one purpose of these laws is to protect the safety of those who use cosmetics. Industry expert Dr Barbara Hall, tells us:
how we know that cosmetic products are safe; and

about the role of the safety assessor
---
Making cosmetics - what goes in them?
As a brand owner, understanding what ingredients to use and why is really important. Sam Farmer explains:
how confident he is in the safety of cosmetic ingredients;

why and how cosmetics are made; and

debunks the myth that cosmetics are still tested on animals in the EU
---
Can we be confident using our cosmetics?
Steve Barton is an experienced formulator and an expert in claims support. He tells us:
why using cosmetics is an enjoyable experience;

that cosmetics must do as the label says; and

debunks the common myth that 60% of everything is absorbed by skin
---
The chemistry of everything - everything is made of chemicals
Years of scientific research and testing goes into making each and every item in our bathroom cabinets and make-up bags and it takes whole teams of scientists to develop just one new product. Sense About Science tells us:
about chemicals in everyday life and if it is even possible to be 'chemical-free'; and

what to do if we are worried about claims - 'Ask for evidence'
The Royal Society of Chemistry carried out a survey in February 2015 about the public's perception of chemicals - download their infographic analysing the results.
---
Find out more
Science Behind Beauty was well-attended by the media and over 100 tweets were sent on the night from key journalists and stakeholders, most featuring the #Sciencebehindbeauty hashtag. The tweets reached over 26,000 people and were 100% positive in sentiment. Feedback since the event has been overwhelmingly positive and CTPA will certainly be looking to run more 'Science Behind' events in the future.