In this section:
---
When we think of cosmetic products, our first thoughts might be the excitement of looking our best and the fun of trying new products to suit our mood. Or, we might think fondly about our favourite fragrance or luxurious bath oil.
Behind the scenes, the truth looks much less sexy, but read on to see the inner beauty of this fascinating and highly scientific industry revealed.
The science behind the products
To put just one new product on the shelves can take up to five years, with a dozen senior scientists working on it, each supported by their own team of scientists.
To create a sunscreen with a new 'active' in it can take more than 5 years and a team of 12 or more senior scientists, all supported by their own scientific teams. Some will work on synthesising the active molecule, some on the formulation of the products and others on safety and efficacy assessments. A single perfume or fragrance can contain thousands of ingredients, no surprise considering the human nose can distinguish over 10,000 different odour molecules!
This infographic from the Personal Care Products Council gives a great overview of the science needed:

Courtesy of CosmeticsInfo.org
The people behind the products
From concept to final product, expertise and knowledge of many scientists from different backgrounds is required.
There is a role for the vast majority of scientific disciplines somewhere in the complex symphony of activities that turns a concept into a new cosmetic product.
In 2020, the European cosmetics industry employed over 1,917,000 people including 32,000 scientists. There were also 682,000 life science students across Europe. There were 229,382 people were in direct employment by the cosmetics industry and 1,688,348 people indirectly employed by the industry and that's only in Europe! CTPA also supports people in the UK looking to enter this field through higher education in cosmetic sciences by funding the London College of Fashion MSc Cosmetic Science degree.
This graphic shows the sheer scope for people working in the cosmetics industry who turn a concept into a finished product on a shelf: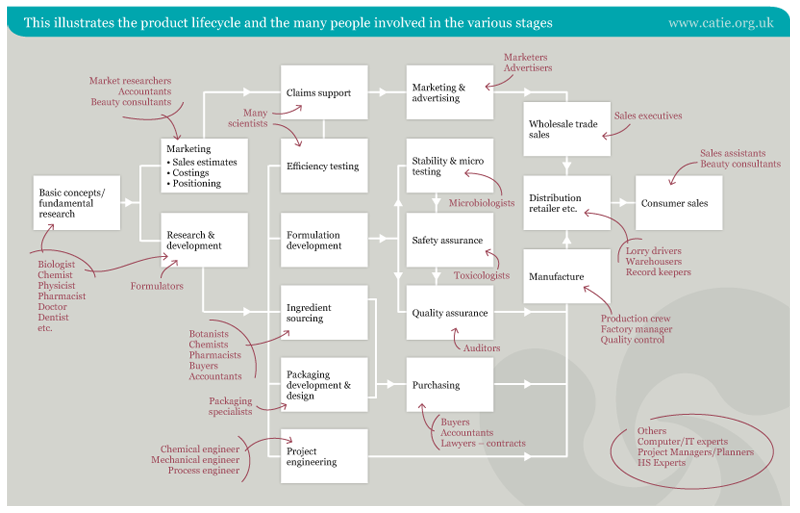 Even after all of the work from all of these roles on the development of the product lifecycle, there is still one missing key element…
The regulators behind the products
Teams of regulatory experts both within companies and within government are required to get a new product onto shelves in the UK.
In the UK, the manufacture and supply of all cosmetic products is governed by the UK cosmetics Regulation (Schedule 34 of the Product Safety and Metrology Statutory Instrument) and the EU Cosmetics Regulation ((EC) No. 1223/2009) in Northern Ireland.
Both Regulations lay down rules for:
roles and responsibilities,
good manufacturing practice (GMP),
documentation,
notification,
ingredients and prohibited substances,
animal testing,
labelling,
claims,
reporting,
the provision of information.
Between Government bodies which enforce these regulations to in-house regulatory experts who make sure a company is compliant, an incredible amount of work is done to ensure that the product that has been manufactured abides by the laws, showing that it is safe for use. See our page on Cosmetic laws and regulations to learn more.
What does it all mean?
From start to finish, raw ingredients to finished products, the lifecycle of a cosmetic or personal care product requires vast amounts of knowledge and work from an incredible amount of people.
Manufacturing products on a country or even world-wide scale is a difficult process and can be an entire career for thousands upon thousands of people. The cosmetics industry empowers those fantastic scientists, designers, innovators and experts in their fields who make up this process of making a cosmetic product.